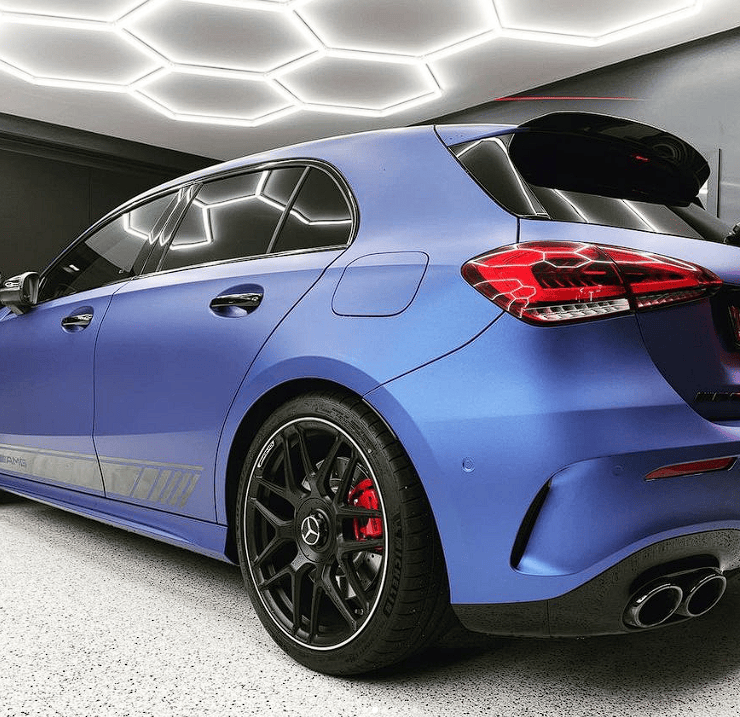 Vinyl Car Wrapping Melbourne
Getting the Job Done Properly
Melbourne Car Wraps specialises in customising and applying vinyl car wraps in Melbourne. We can do this for any vehicle. Our experts can make your car look stunning as well as reflect your personal interests. We can customise your car with your choice of vinyl wrap, and oh boy, do we have a wide range of options. Our solutions will enhance your pride-and-joy's appearance and protect paintwork.
On top of this, we also offer:
What is the vinyl wrapping process?
1. Decontamination, Washing & Cleansing
The vehicle is washed in multiple stages. First, the car is washed to remove any physical debris, bugs, dust, and anything else which could cause imperfections in the finish. Second, any surface contamination and impurities are removed physically and chemically from the vehicle. This allows for smooth, paint-like results by ensuring that the vinyl film adheres properly to the paint.
2. Component Removal
After the vehicle has been dried and cleaned, we take off all the components to ensure the best car wrapping job. This stage is not performed by many inferior car wraps. Our in-house vehicle specialists and prestige car technicians remove all required components with professionalism and care, to allow these to be returned to the vehicle in immaculate condition.
3. Applying the Vinyl Wrap
After all components are prepared, two to three technicians will apply vinyl film to each component according to manufacturer's specifications. We apply the film in controlled conditions by monitoring the temperature and humidity. To achieve the best, most seamless finish, we wrap all edges in the gaps between panels.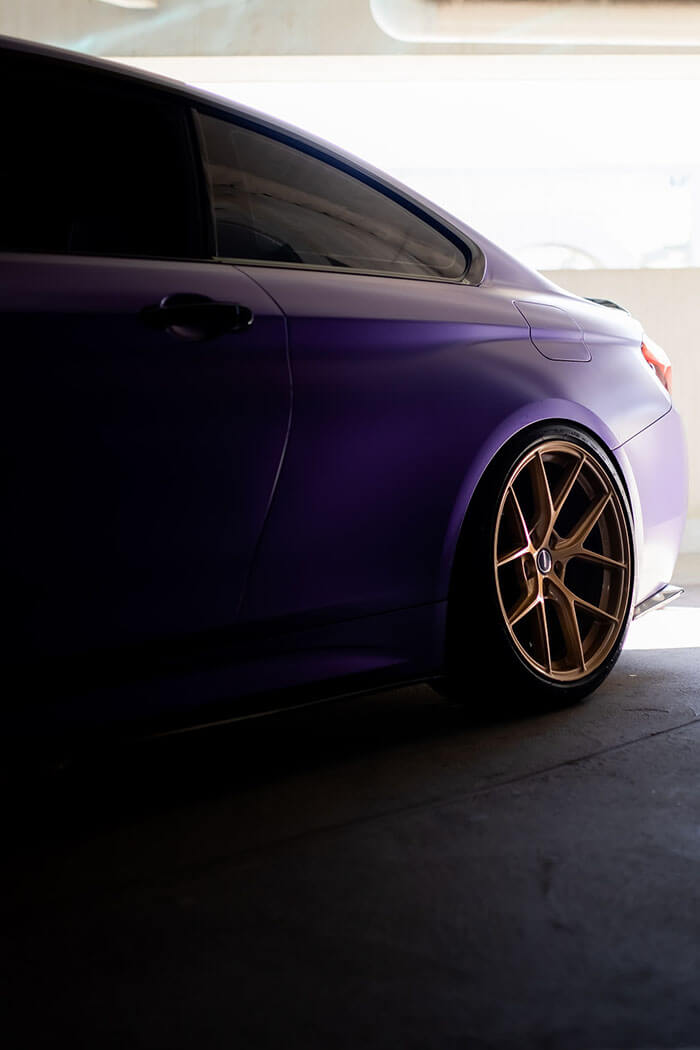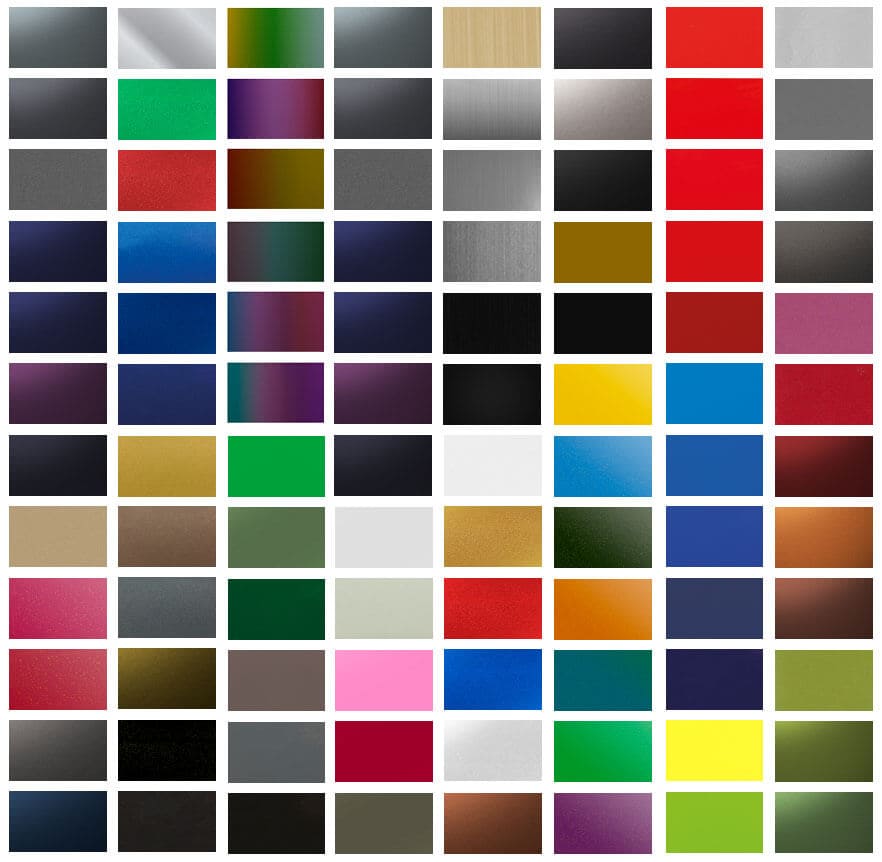 Choosing your Vinyl Wrap Colour
We work with worldwide renowned brands, ensuring the best possible product to accompany our high-quality service.
We source our vinyl from suppliers such as 3M, Avery Dennison and Hexis Graphics.
Please browse the range of vehicle vinyl wrap colours through the download links below.
Frequently Asked Questions
What is a car wrap?
Car wraps are a quick solution to protect your vehicle's surfaces and give your ride personality. It is cheaper and easier to apply than auto paint making it very popular with car owners.
Most car wrapping services offer gloss, metallic, fluorescent, and matte vinyl wraps. Car wraps can be used to customize the look of your vehicle.
A solid colour may be your choice. If you are only looking to cover a few panels, such as the boot lid, roof or bonnet of your car, partial car wraps may be available. You can also add your company logo to car wraps if you are using them for company vehicles.
See more details on this on our vehicle signage page.
What are the benefits of a car wrap?
Some people prefer car wraps to paint jobs. Car wraps are growing in popularity for many reasons. The most obvious benefits are design options and affordability.
There are many options for car wrap design and colour choices. Your design will be printed on vinyl wraps with large format printers.
Generally speaking, vinyl wraps can be significantly cheaper than painting as well.
What are the pros and cons of car wrapping?
Panels can be difficult to apply if you don't work with experienced car wrap professionals. If you want your car wrap to look flawless and natural, find someone who is meticulous about every detail.
Wrapping cars is cheaper than painting them.

Wrapping your car is less labor-intensive and you can get it back quicker.

Vinyl car wraps can be easily removed; you can rewrap your vehicle at any time.

Vinyl wraps can be customized to wrap any vehicle, no matter its size.

Discuss your ideas with your local car wrap expert, whether you are looking for car wraps for your car or for a fleet of company cars.
How long does a car wrap last?
The amount of sun exposure a vinyl wrap receives will determine its life expectancy. Wraps made by professionals have a five-year average life expectancy. If they are properly maintained and cared for, they can last much longer. They can be damaged by heat or harsh sunlight and may last for as little as two years.
The colour of your car wrap could have an impact on your life expectancy. The absorption of heat and energy is greater in darker colours. This can affect not only the interior temperature, but also the life expectancy of your car wrap. As a precaution, you might consider lighter colours.
How much does a car wrap cost?
A complete car wrap can be cost as low as $2,800 – where Auto painting costs can run anywhere from $3,000 to $6,000, on average, and well beyond this. The price varies depending on the size and compexity of your car's body – please reach out for a quote.